Getting a Great Patio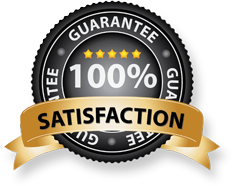 Your backyard or outdoor living space can be made much more welcoming - and your whole home can become more valuable with the addition of a patio. These days, patio designs are limited only by the extent of your imagination, and expert advice can help spark your creativity as you begin the planning stages for your new outdoor space.
---
Where to start
Your first patio design decision is whether to bring the inside outdoors. In other words, do you want your patio to reflect the interior design of your home? If your living room is decked out in mid-century modern angles, you can certainly reflect that on your patio with outdoor furniture in the same style, but you'll need to use furniture that's waterproof and resistant to fading from sunlight.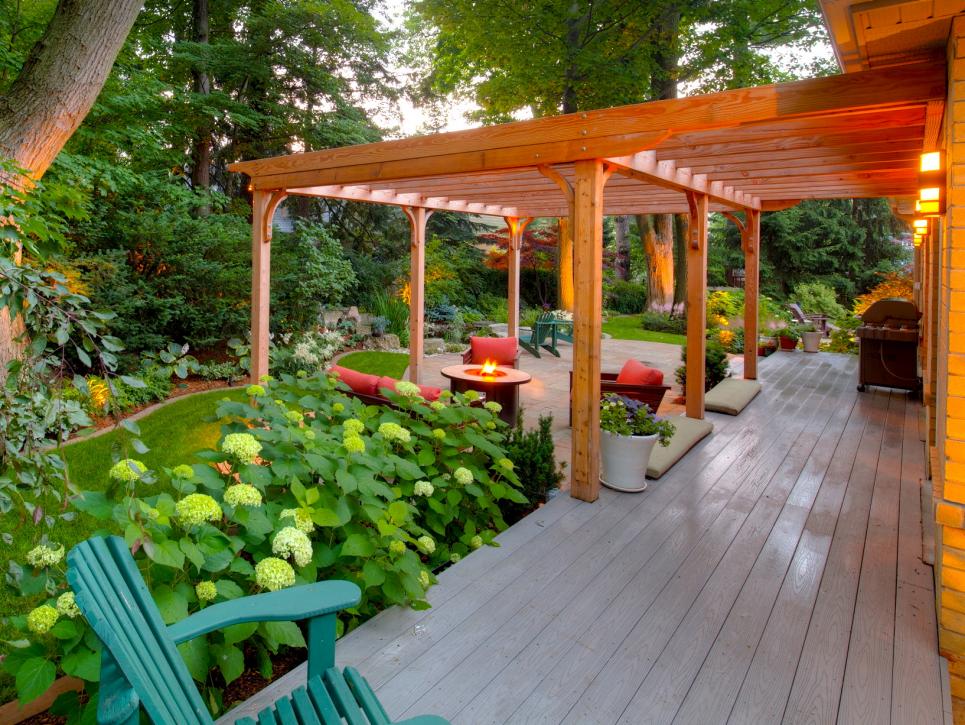 That said, even weather-resistant furniture will need to be brought indoors during extreme winter weather. Even the hardiest patio furniture won't stand up to a full winter of freezing temperatures.
If you want to make the outside its own unique space, that's of course an option as well. You can create a beach-themed resort or a rustic sitting area on your patio, regardless of your interior design aesthetic.
Another important consideration for patio design is lighting. You may want to consider portable lamps or strings of lights to provide ambience and illumination for parties or barbecues held outside after sunset.
Lastly, make a cozy space with rugs, pillows and cushions. These elements, commonly found indoors, can brighten and add comfort to any outdoor patio design.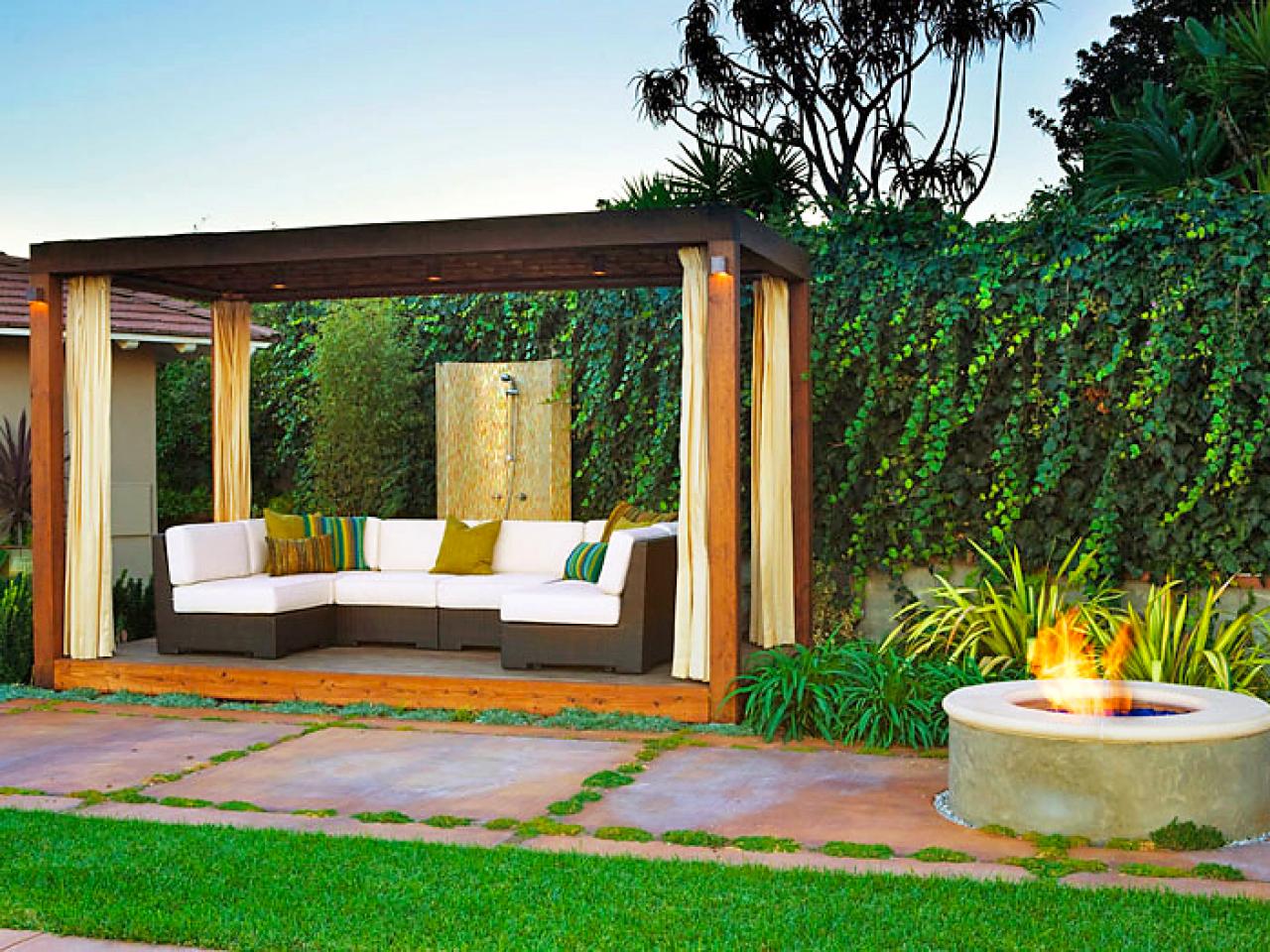 Design Ideas
There are so many great products available now for your patio. You can now basically emulate how the interior of your home is decorated by using weatherproof fabrics, cushions, rugs and lamps that are designed to be left out in the rain and do not fade in the bright sun. You should just make sure to bring them in for the winter months and they will last for years.
First, consider how you plan to use it. For example, if you want to use the space to entertain then you'll want it located near the kitchen so you can easily transfer food and dishes to the outdoor dining area.
If you plan to use it to hold a hot tub, then locate it off the master bedroom or family room. Off the family room, a patio can act as a second sitting area and expands your overall living space.
The Backyard
If you enjoy relaxing in the sun in your backyard, then make sure you put your patio where it will have a southern or western exposure but provide shade with an umbrella, canopy or vine covered pergola, particularly in climates where scorching summer temperatures will make it uncomfortable.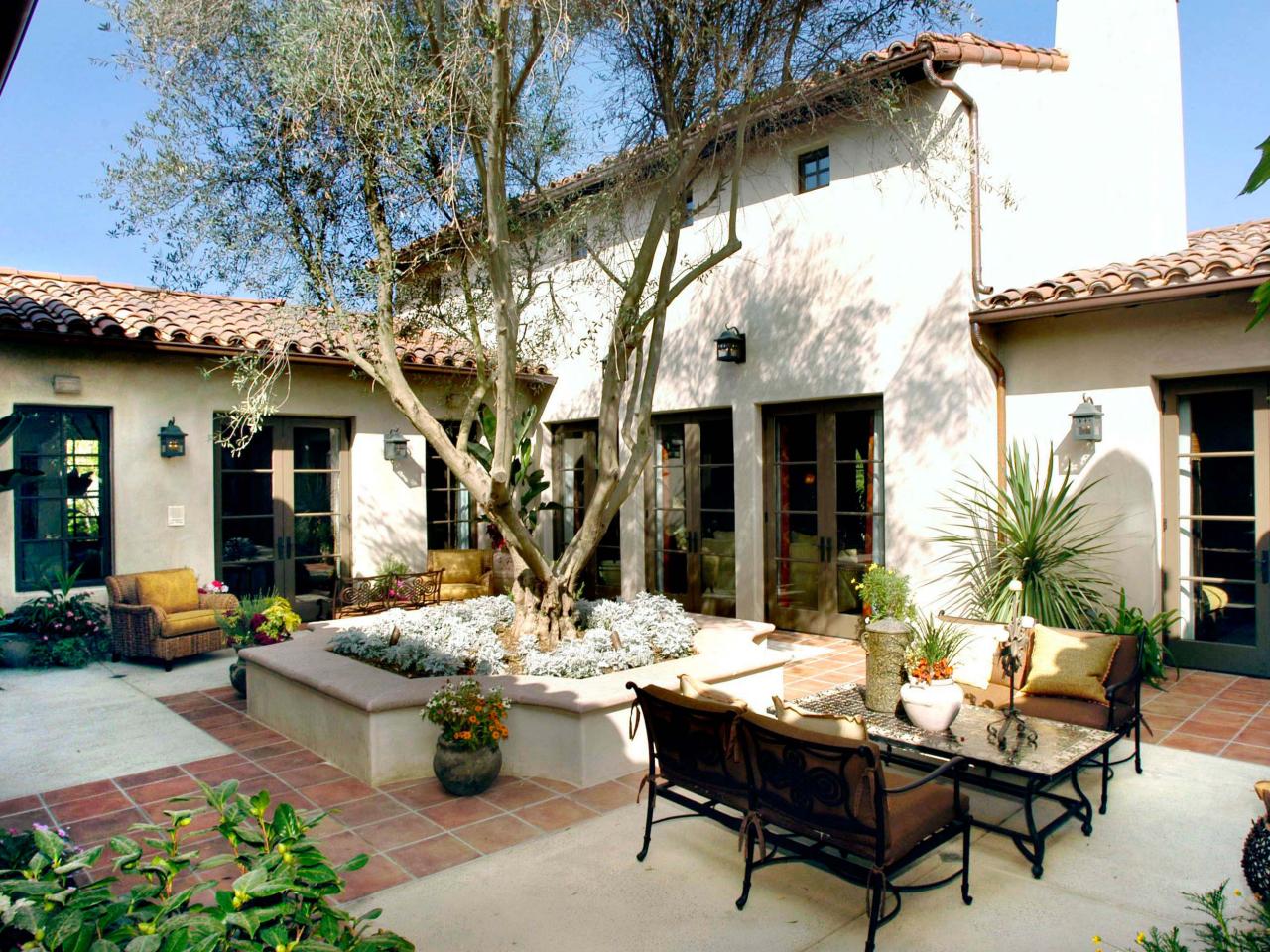 For a cool respite from the sun, a northern or eastern location would be fine. An eastern location gets morning sun and is shaded in the afternoon. A northern location is generally shaded by the house itself and provides little sun all day.
If you have large shade trees on your property, you might want to nestle the patio among the trees. You'll get dappled sunlight and a feeling of escape from the house. However, don't build the patio too close to the trunk of the trees. Most tree roots grow out not down. Roots grow out past the drip line of the canopy of branches so keep the patio away from the roots.
The Front Yard
A front yard patio located near a walkway to the front door (assuming the building code in your town allows it), can act as a welcoming place for friends and especially neighbors to stop by for a chat since it's a less intimate space than a backyard patio.
Your front yard may offer better views of your tree lined street and your neighbors pretty landscaping. A top of chair height border of shrubs will help screen it from the street and create a sense of privacy.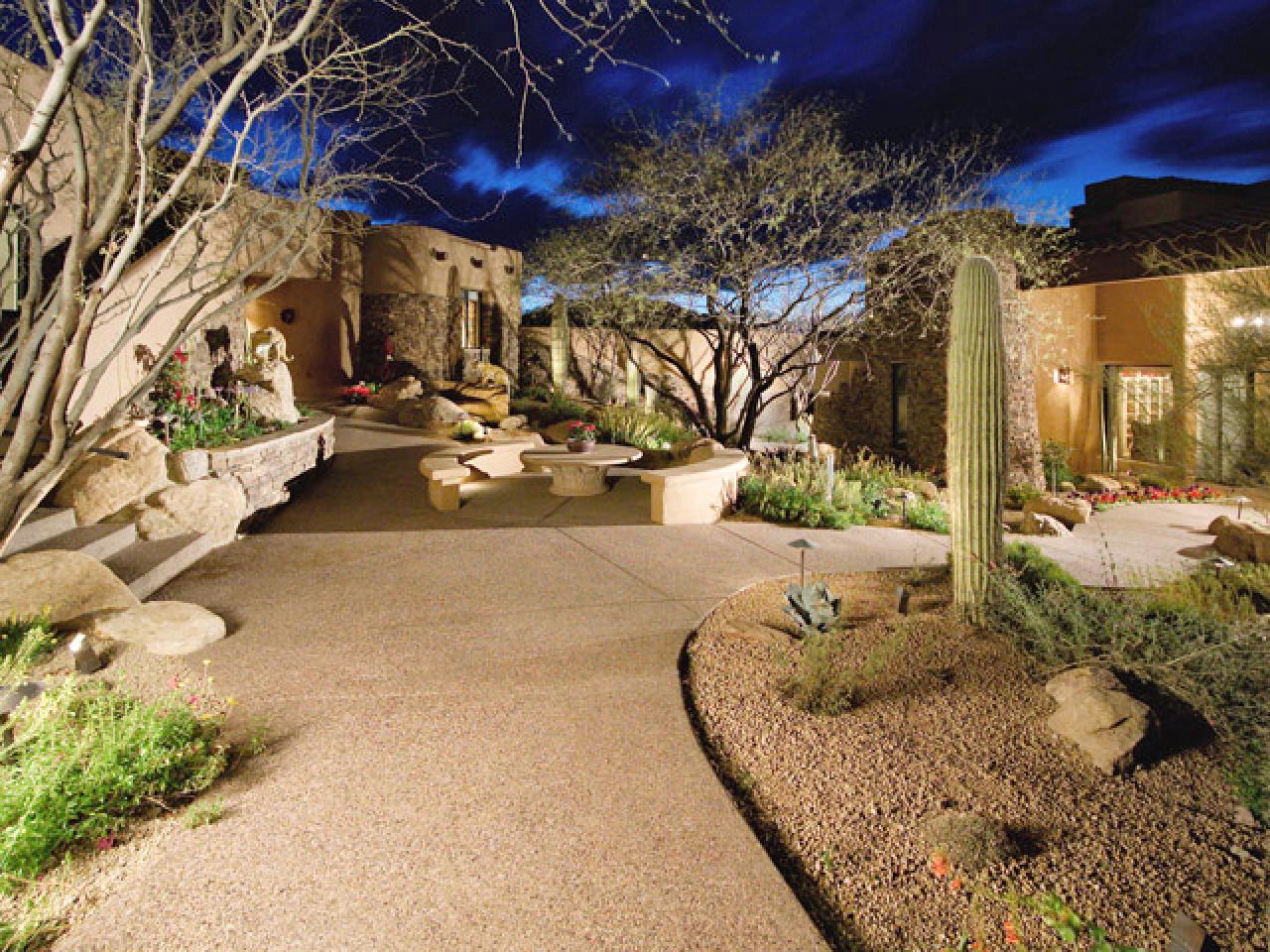 The Courtyard
A courtyard patio is another option. Generally a staple of Spanish or Mediterranean architecture, a courtyard is surrounded on three sides by the house. It's accessed through a gate or archway in front. This intimate space acts as an outdoor room particularly in hot climates where it can be used most of the year in nice weather.
But it can also fit into any small space you have. It can be a charming little space. You can create an environment that suits your personality for not a lot of money. With little or no grass, enclosed by walls, fences or bushy trees, a courtyard patio is intimate and cozy. You wouldn't have the same feeling in a large space.
The View
Since you'll be spending a lot of time sitting on your patio make sure you put it with the best view. Ideally, you'll have something nice to look at the whole time. Hide garbage cans, tools and hoses. You wouldn't have those in your living or dining room so why have them on your patio?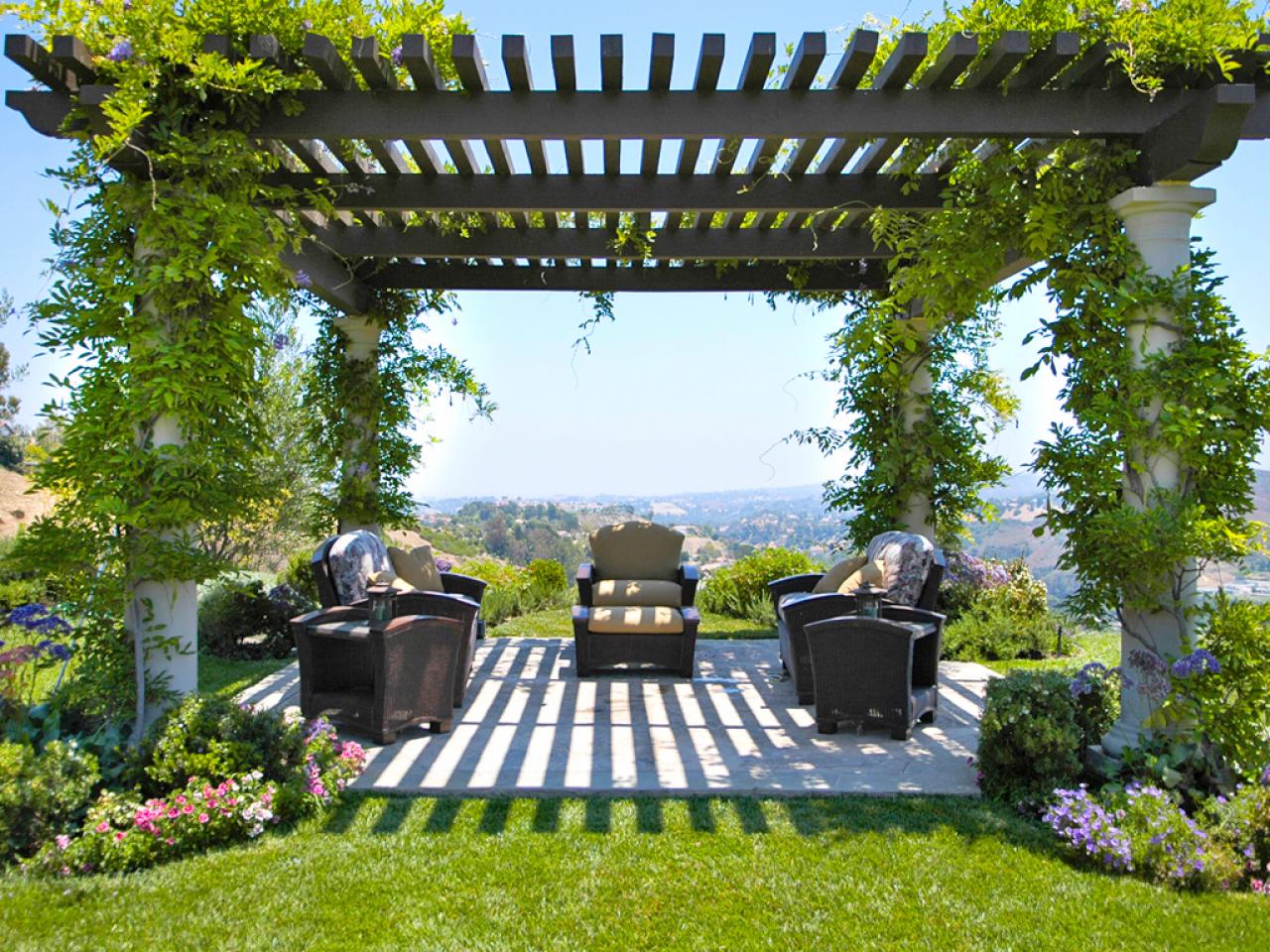 Take advantage of garden views in your own yard or borrowed views of the natural landscape of a neighboring woods, a pond or a field. If you are not sure where to put your patio, consult a professional. Landscape architects, landscape designers and garden designers can all help you site your patio.
Materials
Concrete
There is nothing more boring than a plain slab of poured concrete for a patio. But if you insist on using it, consider a stamped pattern that is dyed with a coloring agent for a more natural look. Be aware of the maintenance issues with this type of patio. You have to reapply the coating about every two years so it doesn't lose its color. They can also show surface cracks and the color wears off in heavily trafficked areas. In frost-free zones, concrete is often the material of choice.
It's easy to put in and you can add exposed aggregate or even pieces of glass. The value of concrete is its price. It's the cheapest way to have a hard surface. And you can create any shape or size.
Natural Stone or Flagstone
For a completely natural look, nothing beats natural stone for a patio. There are many different types of natural stone to choose from including flagstone, slate, bluestone and limestone. Natural stone costs more because it is quarried and has to be trucked in adding transportation costs.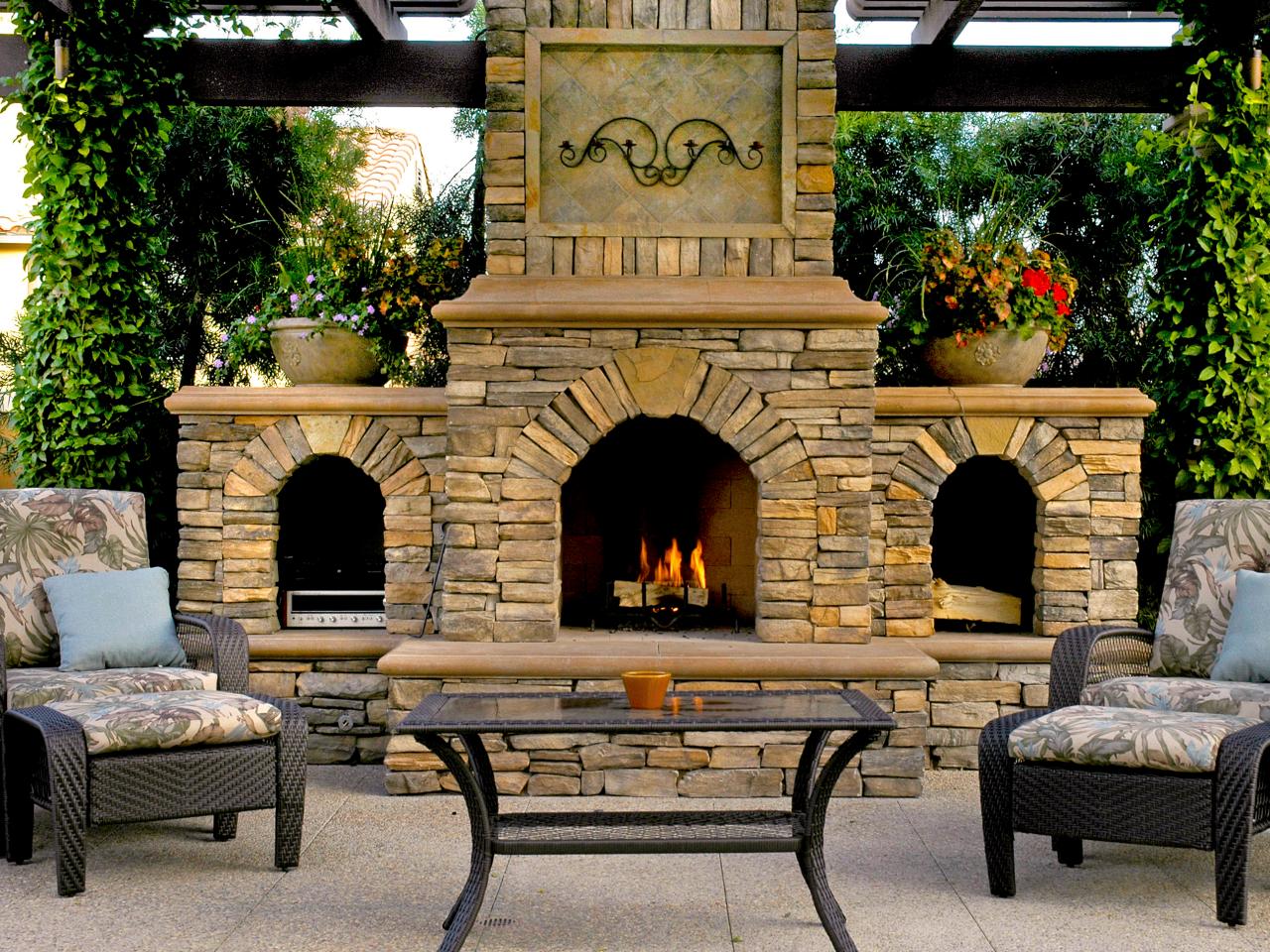 It costs more to install because it takes longer to lay down. The varying thicknesses mean that each piece has to be put in place then lifted so the bed it rests on can be raised or lowered to make it level. Let the materials you already have on your house dictate the type of material you might have on your patio. If you have limestone on your house, then you might want limestone on your patio.
Brick
Thought to be used to pave roads in ancient cultures, bricks have been popular for years. Today, many homeowners want brick patios installed on their property. Brick patios have a distinctive look that is unmatched by any other material. A brick patio is a great choice for homes that already have brick integrated into their exterior design. Continuing the same material will make the indoors and outdoors feel connected.
Brick is porous so it retains moisture. In freezing weather, it cracks so it has to be replaced. In shady areas, slippery moss grows on the bricks and it has to be scrubbed off using a bleach solution and brush. In sunny areas, the moss problem is not as profound but still grows and has to be cleaned off otherwise walking on it can be treacherous.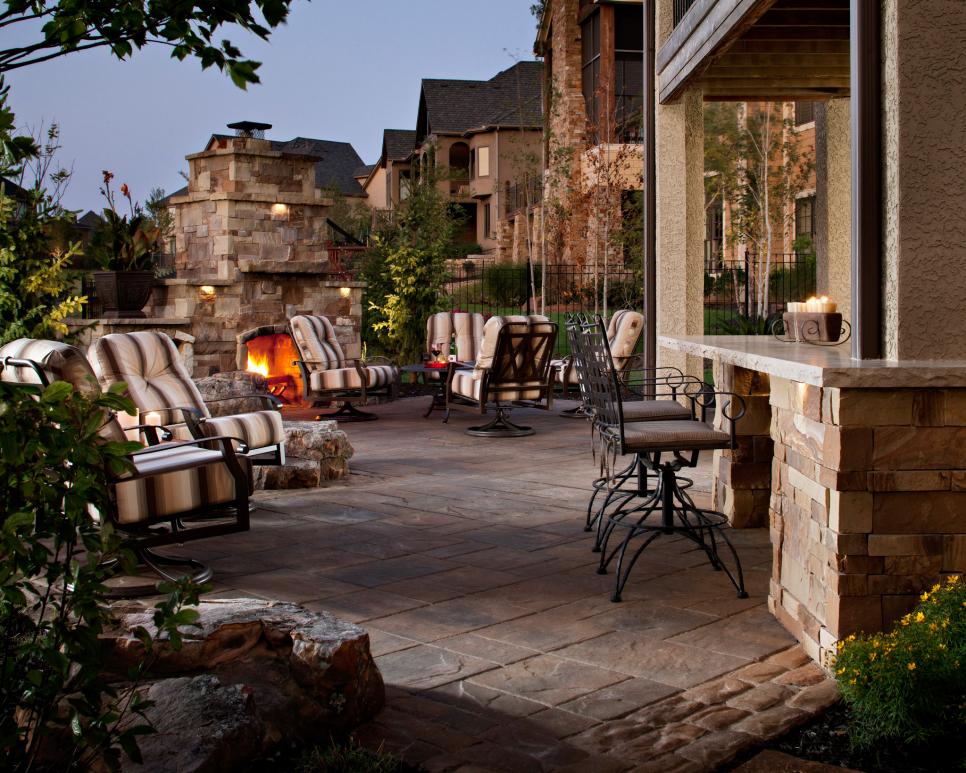 Pavers
Pavers are a popular choice for backyard patios. They provide a beautiful, custom paving solution that installs quickly and is ready for use as soon as the project is complete. Pavers allow for a lot of design creativity and can be used on small or large patios.
There are now many different shapes, colors and patterns available in manufactured paving stones than ever before from such manufacturers as Belgard, Cambridge Paving Stones, Techo-Bloc and Nicolock.
Even high-end homes now sport paving stone patios. It's very accepted as being a nice product. Pavers are modular pieces that are all the same thickness so they go down easily and quickly saving you time and money. There are even circle kits that can allow for curving shapes and circle patios.
How to choose your Patio Professional?
Know what questions to ask when choosing professionals for your outdoor patio project.
Hiring a professional is like interviewing a potential employee. You have to meet many candidates before you settle on the one that's best for the job. Follow your instincts. If the person seems vague or inexperienced, move on to the next one.
Don't necessarily choose the lowest price. Remember, as with most purchases, you get what you pay for. Be sure to ask for several references before you hire any one patio contractor. You want to find a person who has experience (designing and building patios) similar to what you want to do. Find someone who understands what you want and communicates well. That's the key to a successful project.
According to the National Association of The Remodeling Industry, here's a list of questions you should ask before hiring a professional to build your patio:
When can you start?
What time will you knock on my door each morning?
Are you going to work everyday?
How much will it cost per square foot?
What is your approach to a project such as this?
Does your company carry workers compensation and liability insurance? Always verify this information by calling the agency. A copy of an insurance certificate does not let you know if the policy is still current. Even if the certificate has an expiration date, you cannot tell if either party has canceled the insurance. If licensing is required in your state also ask if the contractor is licensed and call to verify compliance with the law. Not all states offer or require licensing. Check with your local or state government agencies.
When will you be finished?
What time will you quit for the day?
Can you finish before (insert any major holiday or significant family event)?
How long have you been in business?
Who will be assigned as project supervisor for the job?
Who will be working on the project? Are they employees or subcontractors?
How many projects like mine have you completed?
May I have a list of references from those projects?
May I have a list of business referrals or suppliers?
---
Patio Photos and Idea Gallery